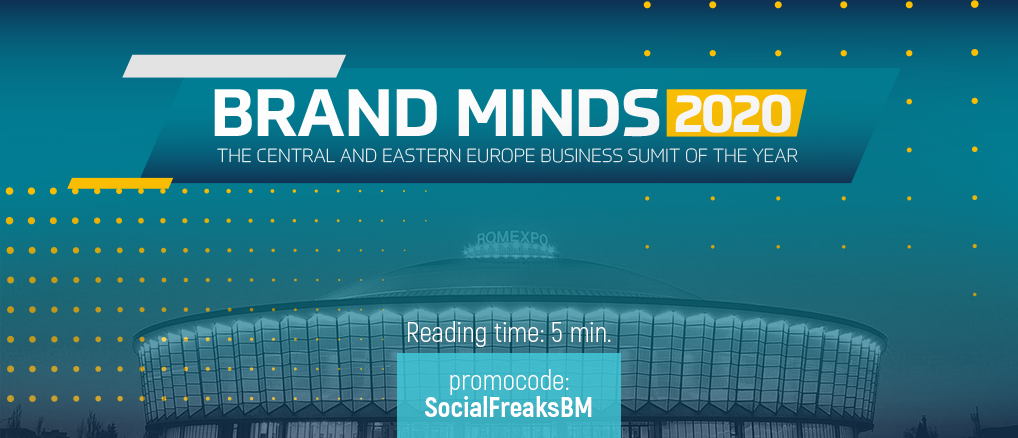 Brand Minds 2020 or where we can meet world-class speakers and authorities
We are excited to to tell you about an intriguing event that we support with two hands and one brand mind. We are partnering at the BRAND MINDS 2020 – The Central and Eastern European Business Summit of the Year. It is held annually in Bucharest and it brings together people with an entrepreneurial spirit. Bucharest is only an hour from Rousse, Bulgaria, and from our presence at the conference this spring we can confirm that we have heard a significant amount of Bulgarian speech. We attended the conference this spring and we can confirm we heard a lot of Bulgarian speech. According to the organization, 80 Bulgarians attended the conference last year.
That's why we're revealing to you a small part of last spring's conference, a brief part of the overall experience we had with the incredible 2019 speakers. We would like to introduce you to the Brand Minds event, so you can feel the excitement we experienced last year.
If you are looking for inspiration or useful professional advice and ideas, then the BRAND MINDS event is for you. You will surely have the chance to see and learn from the most brilliant minds in the world, to immerse yourself in the atmosphere of the future and to get innovative ideas for strategic business-related approaches. You will add value to your field of work and take it one step further. You will hear about the latest trends and innovations in the business world.
And what about the lecturers? They fly from across the globe and many of them are best-selling authors, top scientists, journalists, entrepreneurs and sales and marketing experts. Their messages resonate strongly with the audience and leave a lasting impression. The emphasis is always on improving the quality and efficiency of the business. Events such as this inspire, encourage, and at the same time, bring freshness to the routine.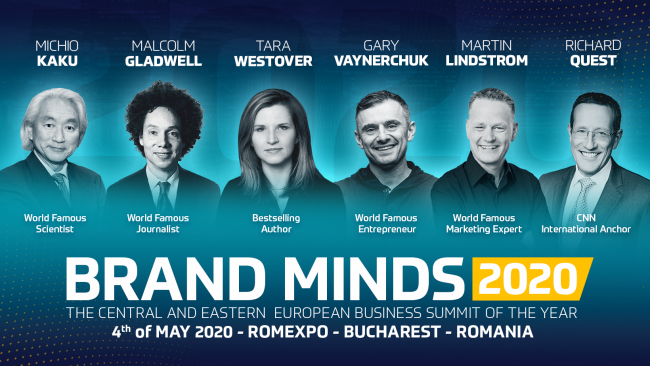 Who is the event for?
Brand Minds is a conference that aims to unite and inspire people in the business world and increase their "personal competitive advantage" – business owners, management and operational managers, sales development managers, marketing managers and more.
Where will the event take place?
The event will be held in Bucharest in ROMEXPO Hall on May 04, 2020.
ROMEXPO is the leader of the Romanian fair and exhibition industry. It is spread over 100,000 square meters. There are annual events there – large and medium size conferences on different topics. For each event, the exhibit center provides participants with parking spaces – one problem less. The location is one of the most popular places in Romania, so you can't go wrong if you decide to get there by yourself. And on the day of the event, you will have access to the hall one hour before the start, which is convenient for every guest.
Who are this year's speakers?
Each year, conference speakers manage to excite their audience and to help them succeed by promoting personal development. With every new issue, Brand Minds introduces to its audience only the best and brightest world-renowned professionals who have proven their worth over time. It's worth hearing them, seriously. And this year the big names are:
Michio Kaku – Japanese American and keynote speaker at Brand Minds Conference. He is an outstanding theoretical physicist, one of the creators of String Field Theory. He is a great enthusiast for promoting science as a presenter of scientific radio and television programs, as well as the author of numerous books and popular lectures.
Richard Quest is an international journalist and business editor at CNN. Presenter of The Expess – a quick briefing on the latest market movements and business stories broadcast live on the New York Stock Exchange.
Tara Westover – American memoirist, essayist and historian. Her memoir: Educated, has won numerous awards and is on the New York Times bestseller list. And there are certainly many exciting stories to hear from her.
Malcolm Gladwell is a Canadian journalist and author. Author since 1996 in The New Yorker. Publisher of 5 books on the New York Times bestseller list.
Martin Lindstrom – Danish author who is among the most influential figures according to The Times Magazine. He has been a journalist in several different magazines, including Harvard Business Review.
Gary Vaynerchuk is an angel investor and the CEO of VaynerMedia, a full-service advertising agency servicing Fortune 100 clients. He is an author of 5 New York Times bestselling books and he is followed by over 16 million professionals and entrepreneurs in the digital arena.
Why is it worth it and how do we attend?
After introducing you to the speakers, we are sure that you will not hesitate to attend the conference and get inspired. As the only partners in Bulgaria, we are proud that we can give you a 12% discount on the regular ticket price for Brand Minds 2020. Here is the promotional discount code: SocialFreaksBM
We are looking forward to being on BRAND MINDS 2020 again on May 04, 2020 in Bucharest to touch on the experiences of some of the most influential and successful personalities worldwide.
See you again at BRAND MINDS 2020 🙂
Comments