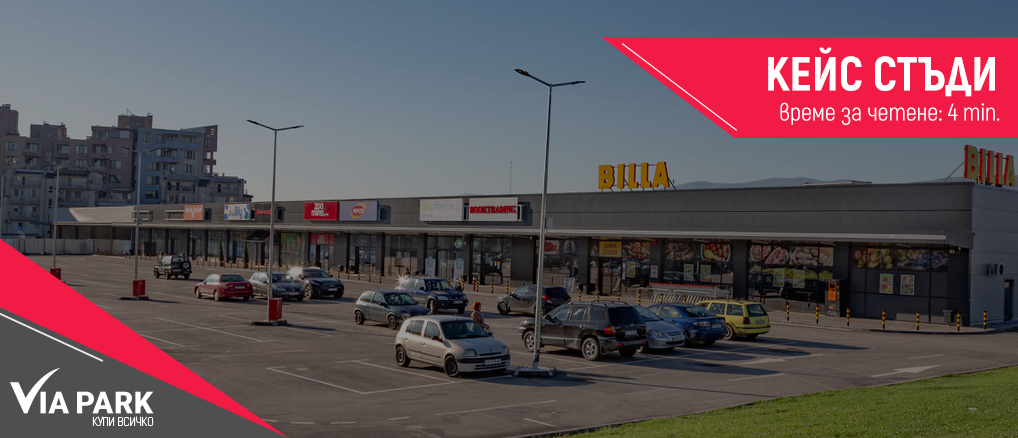 VIA Park in time of retail parks
When in the beginning of 2020 we started working on creating and establishing a brand for a new retail park in Plovdiv, we were excited, but we also swam already familiar waters. As an agency with vast experience in the retail sector and shopping centers, we knew that we could add value to our new client and position the retail park as a reliable leader in its sector.
In the last 5 years, retail parks have been growing at a steady pace throughout the country. At the beginning of March 2020, however, they became the only alternative to shopping centers – thanks to their convenient parking lots and diverse shopping mix. And in a time of pandemic,  retail parks tenant mix is exactly what consumers need to meet the needs of their families.
It all started on a cold and gloomy morning. In contrast to the weather and combining a lot of enthusiasm, diligence and creativity, we set the stage for creating a brand and corporate identity.
Not long after, we came to the perfect name that our client fell in love with – VIA Park. The insight comes from the park's location , which is situated  in a key place in the southern part of Plovdiv and is at the crossroads between two main boulevards. The combination of open spaces, ease of access and the variety of tenants contribute to its attractiveness and amazing experience while shopping.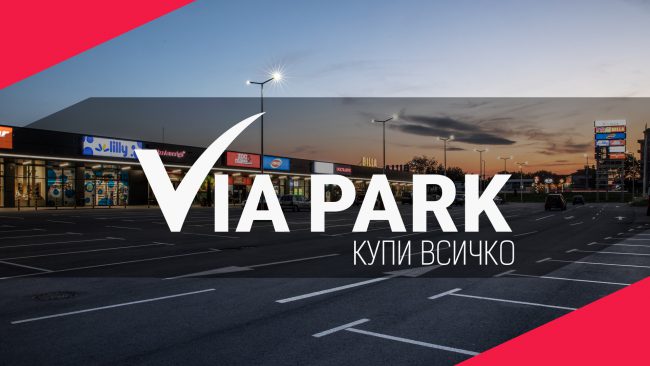 VIA Park is a breath of fresh air for its visitors. A place where they can easily find everything they need, often on the way home. Tenants are leaders in their sector – Billa, Pepco, Sport Depot, Lilly, Zoomania, Matstar, SOpharmacy, PizzAmerigo, Booktrading and SDI. The overall concept of the park is focused on shopping for everything on your shopping list – food and household goods, medicines and supplements, cosmetics, books, clothes, shoes and other supplies for children, eating a good pizza on the spot or for at home, etc. From here we got  the idea for a slogan that fully reveals VIA Park– "Here you can buy everything".
We also created a short brand book, in which we specified every detail about the retail park's identity, as well as the developed corporate materials. We covered everything down to the smallest detail and our client was satisfied.
We created a website with a clear vision, which is neat and informative. Through it, visitors can get acquainted with the tenants of VIA Park, the location and find all the information they need. The site also brings added value for both the park's customers and the tenants – regular news via which users can read about the latest campaigns and offers of the tenants.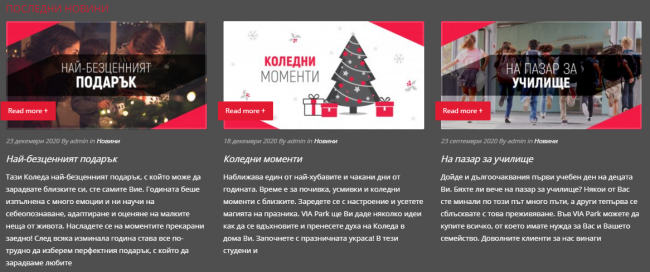 By browsing trough  VIA Park's Facebook  and Instagram, you can see a variety of campaigns brought under a common style.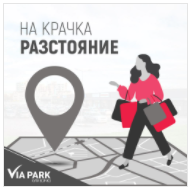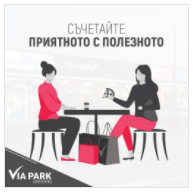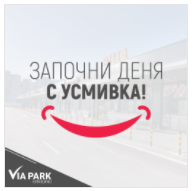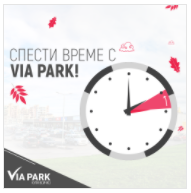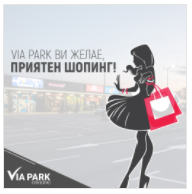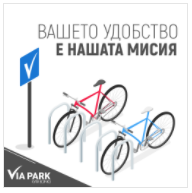 Of course, we also created shareable content. Each of us has had a similar moment when he or she goes out only for bread and comes back with full bags.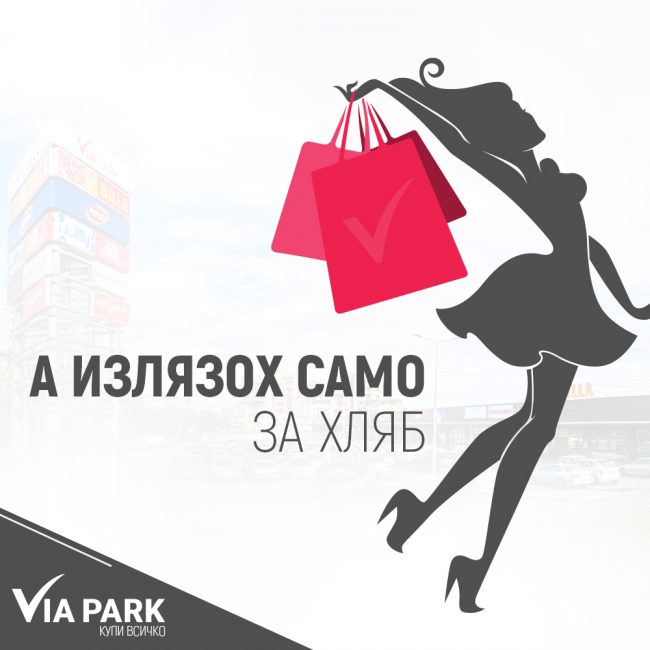 We also unleashed our creativity in terms of advertising campaigns. For Google, we used geotargeting – according to the needs of the tenants. For Facebook  we created different audiences, a crosspoint for each tenant and for the different target groups of the park.
We focused our attention on the residents of the settlements along the entire Rhodope collar and the field west of the park – Komatevo, Markovo, Belashtitsa and many other settlements, for which VIA Park is the last stop on the way home.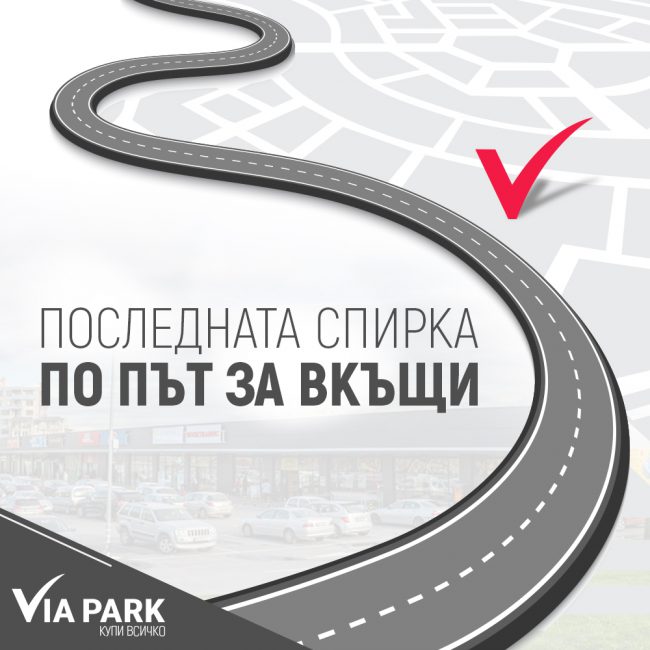 Meanwhile,VIA Park has started the implementation of the second phase of the park's construction – the creation of a new office building, class B +, with 5000 square meters of office space and a pleasant working environment designed to meet the highest requirements for functionality , representativeness and flexible interior solutions. Our task was to create a corporate presentation for online and offline chanels, which would communicate VIA Park in the best way to the B2B audience. You can view the presentation here.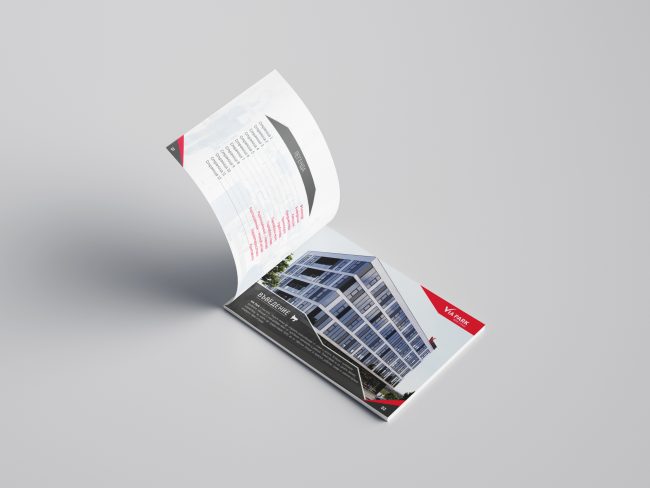 Corporate catalog                                                                                             
Business cards
VIA Park  is a wonderful retail park where you can buy everything and enjoy the fresh air, convenient location, variety of tenants and ease of access. What further distinguishes it from other retail parks in the city and country is precisely its professionally built brand and identity, website and online communication strategy. And no, we don't say that because we worked on it . On the contrary, we believe that the sector needs good examples and standards of work and we thank you for the opportunity to contribute.
And you know – follow us for more interesting blogs.
Comments