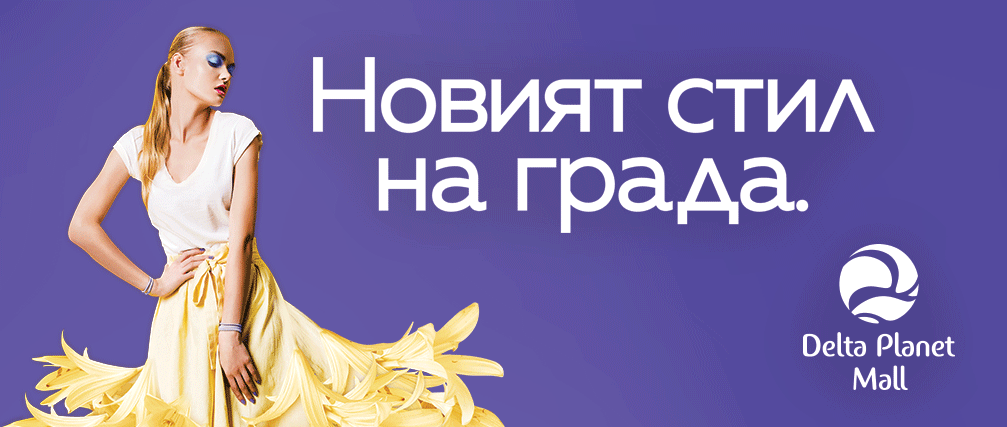 2019 Challenge: Delta Planet Mall Opening
Year 2019 started with a new challenge for us – the opening of a new shopping center outside of Sofia – Delta Planet Mall (click). We were flattered and proud of being the chosen agency for this hard task. We're happy to be the one and only creative agency in Bulgaria to have 3 shopping centers in its customer portfolio. This project was an opportunity for us to upgrade and apply our skills.
CUSTOMER: Delta Planet Mall is the first big shopping center in Bulgaria, which was opened after the past trend of malls a decade ago. The project is huge – for Varna and for Bulgaria as well. It is located on 100 000 sq. m. area. The building has 4 levels with more than 1300 parking lots and retail area over 40 000 sq. m. Green gardens and open terraces, a new trend among the shopping centers, make Delta Planet Mall very distinctive. The concept of retailtainment – combination between a good retail mix, interactive and modern interior and entertainment areas, transform the shopping center into the new style of the city.
SERVICES: Full service agency of a shopping center – creative, design and copywriting; social media presence concept creation and management, concept and realization of pre- and post-opening campaigns;
GOAL: Communicating the competitive advantages of the shopping center, revealing the retailtainment concept, promotion and awareness of Delta Planet Mall and creation of attention-grabbing opening campaign.
This is how it all started…
Our freaky team had a long brainstorming for visual concept & slogan for the opening campaign of Delta Planet Mall.
Insight:
Our professional experience was very helpful to ensure that the opening will be smooth and successful. We know that in order to get to the visitors' hearts and to be considered as their place, Delta Planet Mall has to engage the local people and guests of Varna, by building an emotional bond and leaving a long-lasting memory of positive emotions and fun.
Often during event management, marketing teams and agencies spend most of their time and energy for the event planning, while the event itself passes unnoticed and the memory fades away very fast. Thus our insight was to make an extraordinary opening, a 4-day festival with concerts, theatres, kids workshops, flashmobs and interesting games with gifts. An event in which we all would participate and we wouldn't be the same after this experience.
Campaign slogan: It came naturally too "Everything changes on 28.03.".
We kept the inspiration going…
We didn't want to announce all surprises straightaway, this we decided to arouse the interest of locals and guests of Varna with a teaser campaign, which started on the 25th of February. While choosing the creative key visuals we wanted to reveal the concept of the shopping center and make it easier for all target groups to recognize themselves in our main visuals.
We began with a fashion lady and trendy man: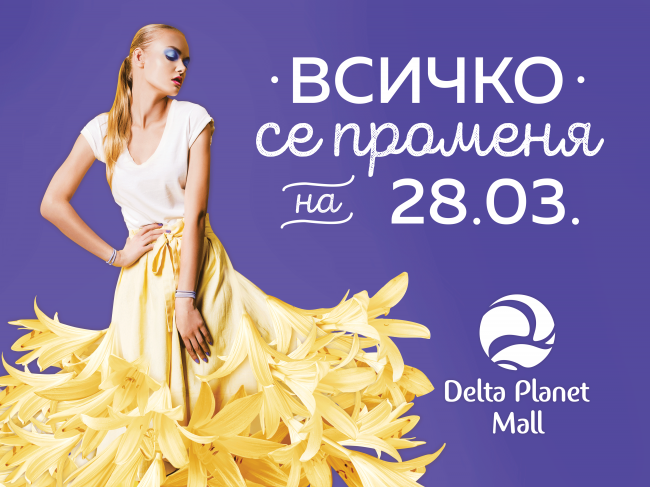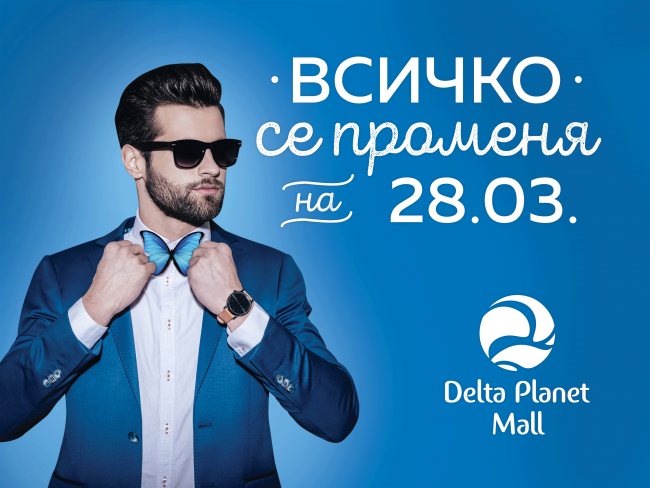 Then stylish teens having fun followed: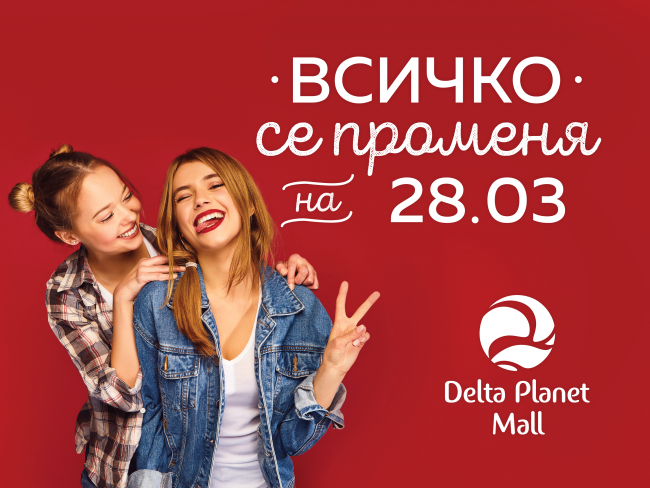 Last but not least, happy family and a couple experiencing the cinema emotion.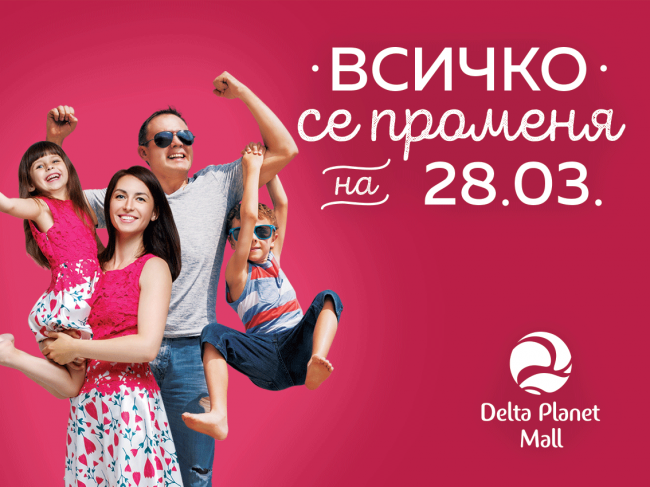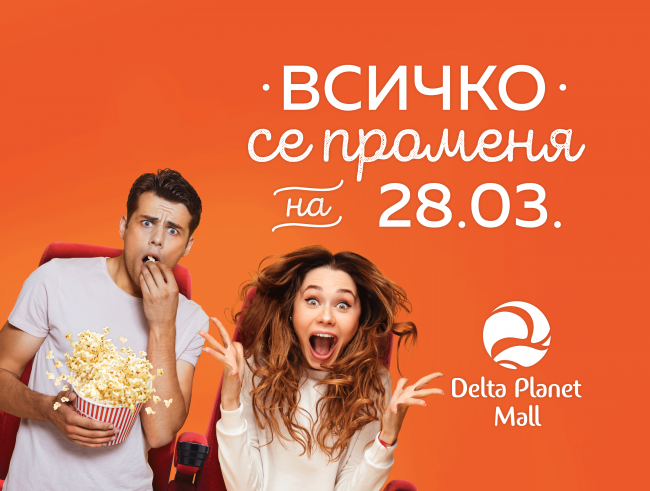 Our message was spread everywhere in the city by OOH advertising and arouse the interest of everyone for what was about to happen after a month!
We wanted to make sure that we are on the right road, this is why when we were visiting Varna we asked random people if they know what is coming and we were very happy that they were anticipating the opening of Delta Planet Mall and gave us a positive feedback for our 5 key visuals. Great job!
Lifting the curtains…
After we were assured that many people are excited for the event, some of them even asked for a day off to be able to visit the mall, we decided to reveal what we have prepared for the 4-day opening festival.
Do you like being first?
For the opening we decided to giveaway gift cards for the first 200 customers and it a very effective strategy – the shopping enthusiasts were impatient for the start of the official opening festival.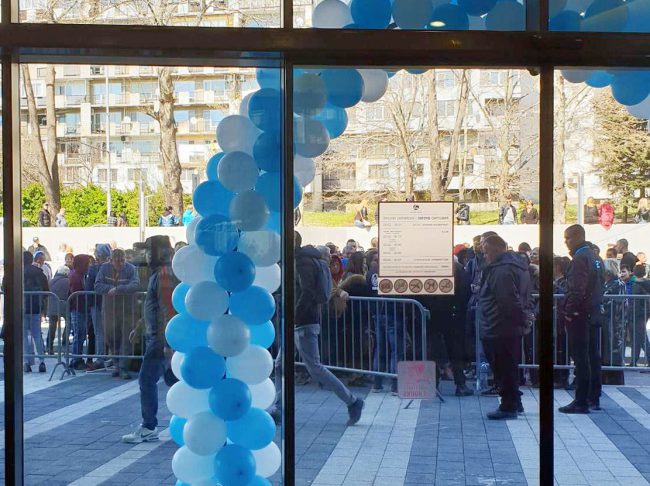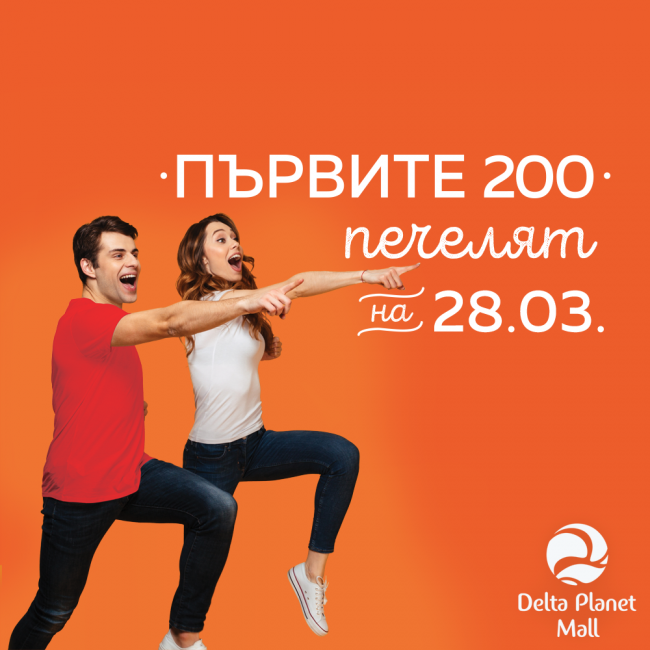 Be explorer and win…
Besides the unforgettable experience, every event visitor had the chance to win a big prize while having fun.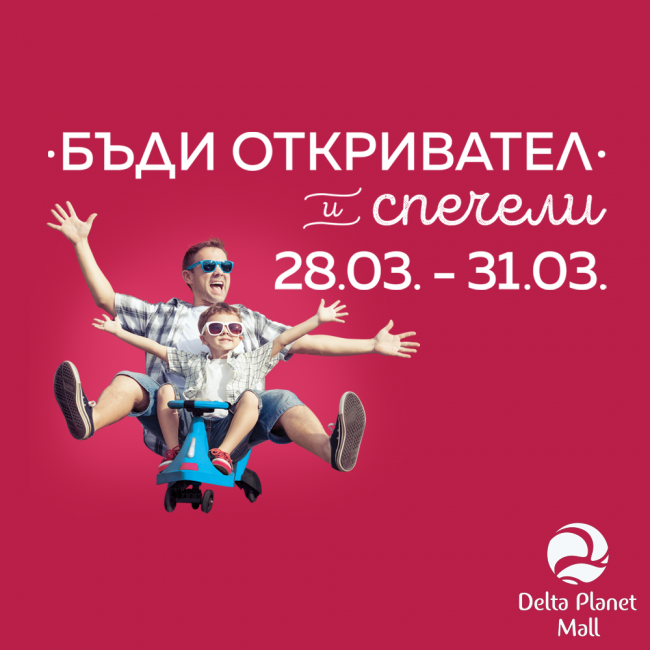 Event program…
Before the opening event, we distributed the event program together with the card for collecting stamps from the "Be Explorer" campaign and the fan card for the big star concert of Virginia Records. Every corner in Delta Planet Mall came to life and we prepared many activities : kids workshops, puppet shows, animators, magicians, fairies, actors on stilts, karaoke and the big concerts, of course.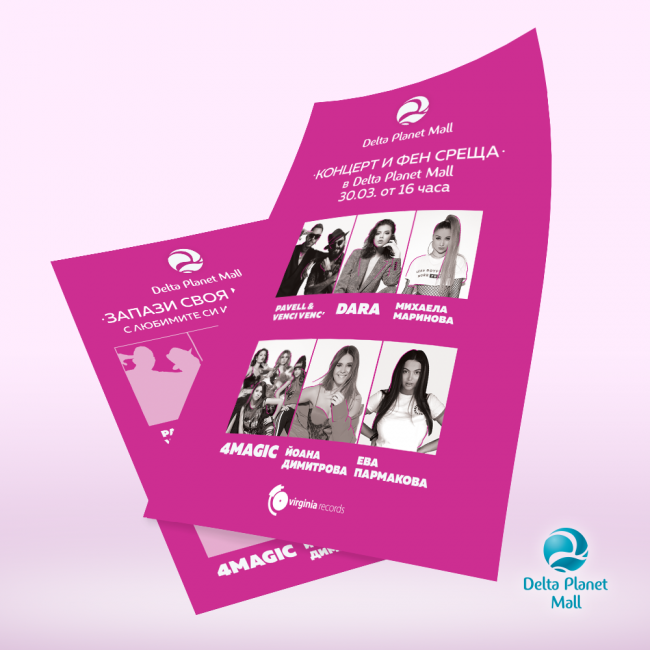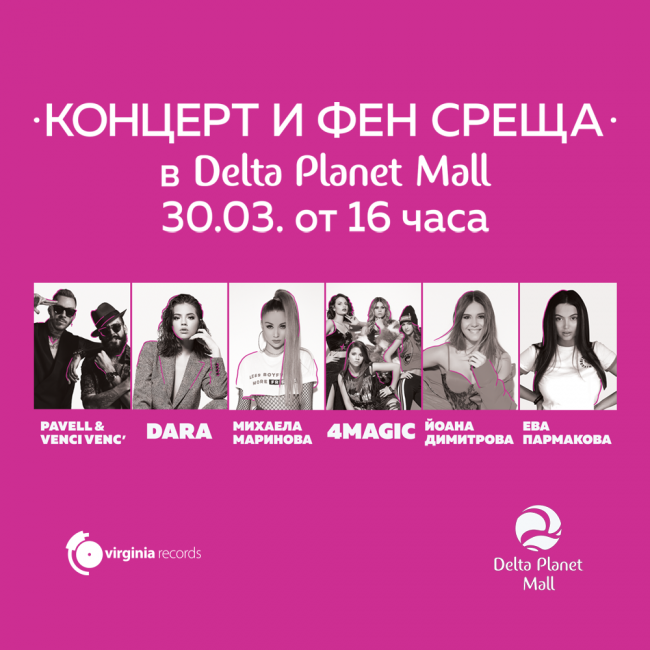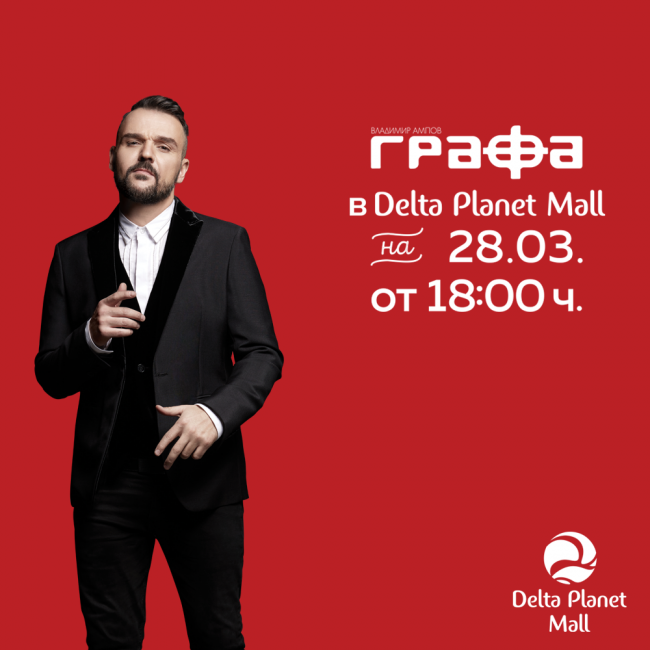 Creative invitation…
Every agency dreams of having groundbreaking campaigns that create unique experiences. We did unexpected guerrilla marketing activation – few days before the event, we invited the customers to visit the opening festival with a wink and an original frame on their automobile side mirrors. Professional promoters placed this frame on thousands cars in the neighborhoods near Delta Planet Mall. Because you know,  everything changes on 28.03.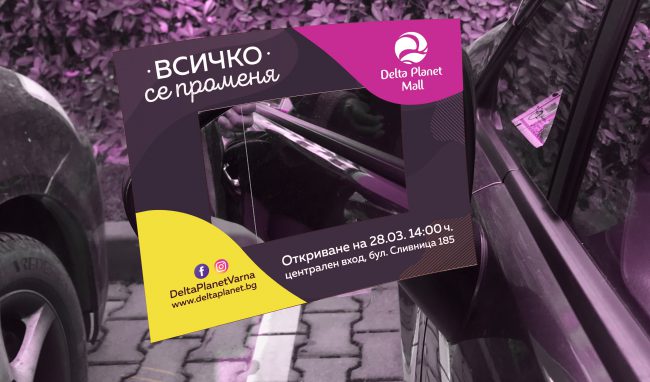 Online communication
Having good knowledge of the different digital ad platforms and their audience, we build a strategy for specific communication in the various channels. We created brand awareness for Delta Planet Mall in the social networks Facebook & Instagram by sharing creative visuals to custom target audiences, stories and via #hashtags too. Our manner was friendly and we did out best to stand out and be clear in our messages, in order to supply the impatient users with maximum information.
Facebook & Instagram
We used the digital channels also to furthet develop the potential of our key visuals by helping them come alive:
We engaged the fans and the followers of Delta Planet Mall with video stories in Facebook & Instagram, which kept their interest for the upcoming opening festival.
LinkedIn
Our communication in the business platform was clear and official. We used stylish, corporate visuals, presenting the information about the project and building solid connections with business partners.
YouTube
The video content which was created for Delta Planet Mall was shared in the biggest online video platform YouTube. We promoted 2 video productions:
Video, inspired by the slogan "The new style of the city":
In the video we revealed the concept of retailtainment, the images of the characters from the target groups were further developed by showing them having fun under the sound of specially created song for Delta Planet Mall. We also included  famous Bulgarian actors and models in the video.
Video with directions, which shows the way from different locations in Varna to Delta Planet Mall in a funny way with colorful arrows:
Landing Page
Our freaky programmer created a very functional landing page with more info about the events from the program, the games, contacts and a countdown to the opening of Delta Planet Mall.
https://www.deltaplanet.bg/vsichkosepromenya/
We were impressed by the results it reached for the short period of 6 days, during which it was a part of our digital communication. The total number of visitations was 34 053, 24 601 of which were unique.
RESULT-ORIENTED:
Our first love might be the creative, but we're digital freaks as well, so we will speak a little bit about digital numbers:
PERIOD: 30.01. – 31.03.
FACEBOOK & INSTAGRAM:
REACH: 404 259
IMPRESSIONS: 6 697 460
VIDEO WATCHES: 2 205 608
LinkedIN:
IMPRESSIONS: 29887
VIDEO WATCHES: 9 127
YouTube:
IMPRESSIONS: 1 134 014
VIDEO WATCHES: 396 141
Delta Planet Mall really changed everything and we're completely different and freaky inspired!
Comments